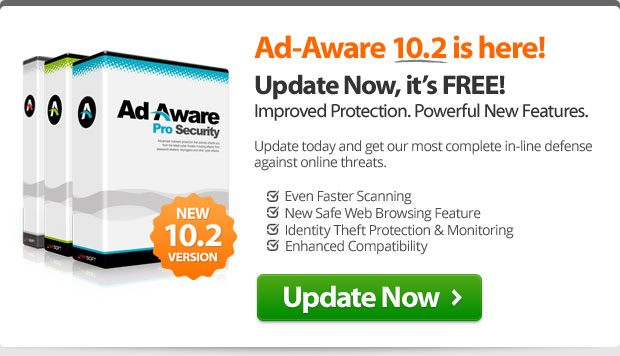 Thank you for using our product.



We have great news! Ad-Aware turns 10.2! It's our best update yet! It also demonstrates our dedication in providing rapid development cycles and offers users enhanced real-time protection. Update is free for all Ad-Aware users (9.x, 10.x: Free, Personal, Pro).

Don't miss your chance to experience our powerful and most complete in-line defense against daily online threats.

Click here to download your update.



Best Regards,
Your Lavasoft Ad-Aware Team


What's new with Ad-Aware 10.2
ID Watchdog Integration

Free credit report monitoring and alerting capabilities to notify any critical changes to your credit report that might be an early indicator of identity theft (for U.S customers only).

Active Protection

Constantly monitors the activity on a computer and suspends suspicious files and blocks malicious processes to prevent infection.


Low False Positive Rate

Immediately notifies users to eliminate potential attacks, providing the most up to date online protection.

Robust URL Site Scanning System

Lavasoft's malicious site scanning system scans 24/7 for new malicious URLs.

Enhanced Real-Time Protection

Real-Time Protection increases the reliability of the drivers and includes enhanced 64-bit support.

Cached Scanning

Automatically skips scanning files that were determined safe in earlier scans, resulting in much faster scans.